Connecting Agoda with Sympl
Creating an API connection to your Agoda account in Sympl is a two-part process:
In Agoda
Navigate to the "Help" form in your Agoda dashboard (after logging in) and send a message indicating that you would like to designate Tokeet as your channel manager. Make sure that you also include your Agoda Hotel ID with this request.
In Sympl
Navigate to the Channels drop-down in the main menu bar, then click on the API Channels menu item.

You will be presented with all of your current API connections for all of your rentals. To add a new API connection to Agoda, click the "+" button at the top left-hand side of the Channels page.

When the Add Channel Connection overlay window appears, channel "Agoda" is selected by default on Step 01: Getting Started.

Click on the Next button to move to the Step 02: Preparation.
On Step 02, there are some sections on right and each section has links to some help pages. The mentioned pages will call out requirements that must be met before we recommend creating a connection between Sympl and Agoda.com.

The next and the final Step 03: Request Channel Manager Access will help you to Request the Channel Manager to get the access and to initiate the API connection to Agoda. For this, the user just need to Enter Property ID before hitting the Save button.

Once Property ID is provided and Saved connection is completed.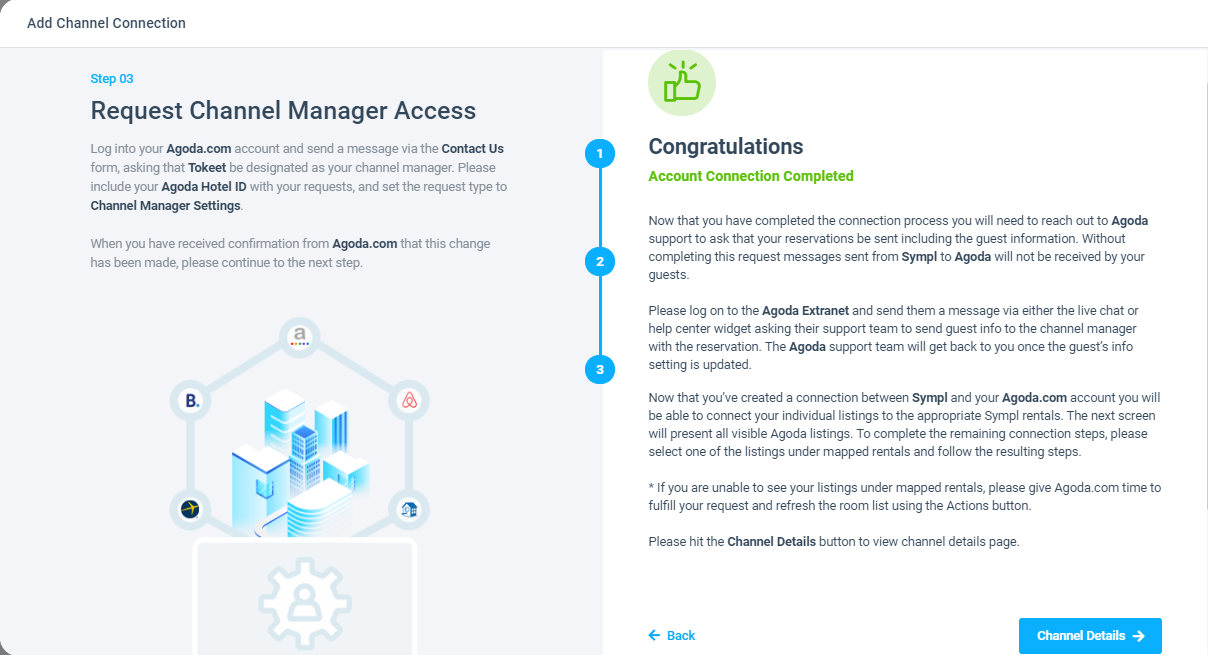 If your account details are correct, you will be connected and ready to work with your Agoda listings in Sympl.
If you have any questions about the connection process that have not been answered, please feel free to
email our support team
for help!
---
---