My Rates are Too High on Booking.com
One of the more common scenarios for seeing a mismatch between the rates you push from Sympl and what appears on the Rates Calendar on admin.booking.com, is covered below. Please note that Sympl cannot update the values stored in Booking.com for maximum guests, additional guest fee, and guest count (when to start charging the additional guest fee). The channel API for Booking.com does not provide any options to manipulate these values from any connected channel manager. However, before contacting booking.com for assistance we recommend taking the time to review the troubleshooting steps below.
Step 1: Pushing and reviewing rates on the Booking.com rates calendar.
Have you pushed rates to Booking.com yet? To do so, you will have to have a Base Rate and a Standard or Group Rate created and a rate mapping that tells Sympl which rate category to push to Booking.com. Please refer to the following article if you have not yet pushed rates to Booking.com. Pushing rates to Booking.com
If you have already done so you can check the rates on Booking.com by logging into admin.booking.com and navigating to your rates calendar.

You may need to adjust the date range on the calendar to get a larger set of dates to be visible.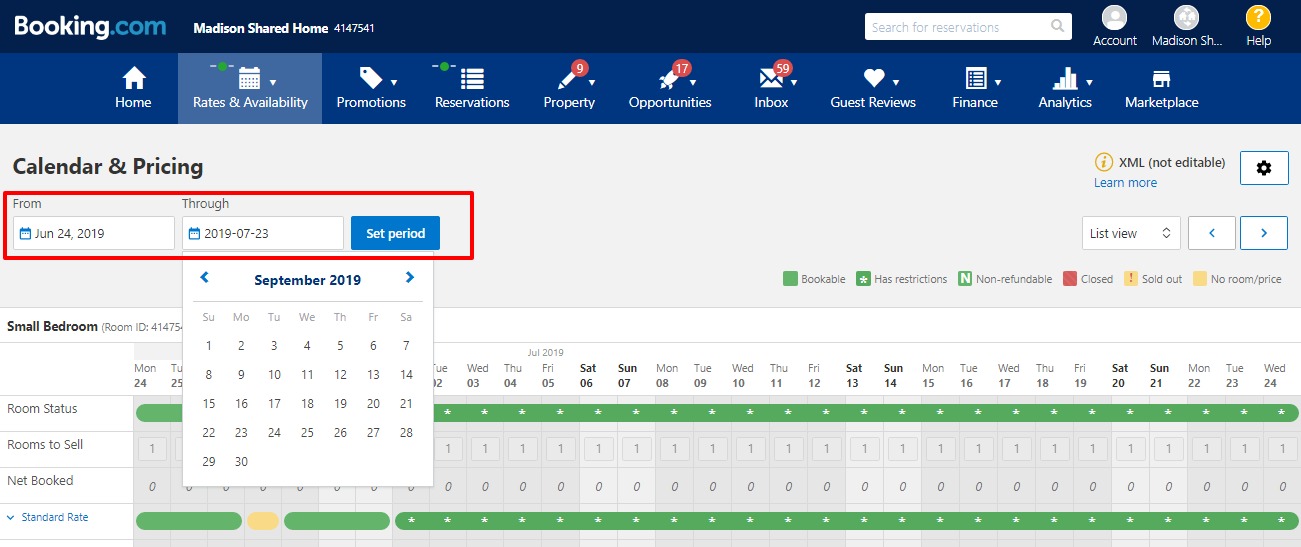 Expand your Standard Rate so that the prices being pushed from Sympl are visible.

Step 2: Compare the rates pushing from Sympl to Booking.com.
To compare rates between booking.com and Sympl rate pushes start by selecting a few days that are easily visible on your Booking.com rate calendar and compare them to Sympl by opening the Rental Rates overlay. Click on Rates > Click on the rental name on the Rates Multi-calendar > Navigate to Rates Table and identify the rate being pushed for the period you have selected to compare. In the example below, we will be using the July Rate to compare to the booking.com rates calendar.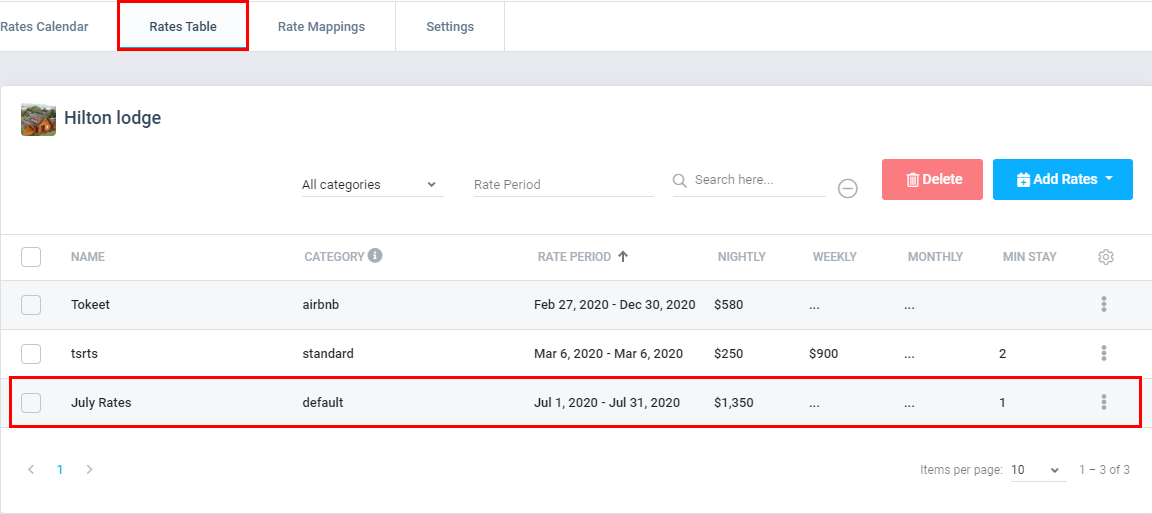 As you can see, our rate on booking.com for 1 guest is significantly higher than what we are pushing from Sympl.

In this example, Booking.com is taking the price sent by Sympl which is the maximum occupancy total for 3 guests and is adding 50 additional per person which results in a price that is far too high. For a maximum of 3 guests, it comes out to 1450 or 1350 + 50 + 50, which booking.com then adds 50 more to until they reach 1550 for 3 guests. To resolve this simple scenario do the following:
Go to the Settings tab of your rental rates overlay and select ignore for booking.com next to the additional guest fee setting, then hit Save. This will alter the Sympl rate being pushed so that we do not include the additional guest fee and allow booking.com to add it to the base rate for 1 person instead.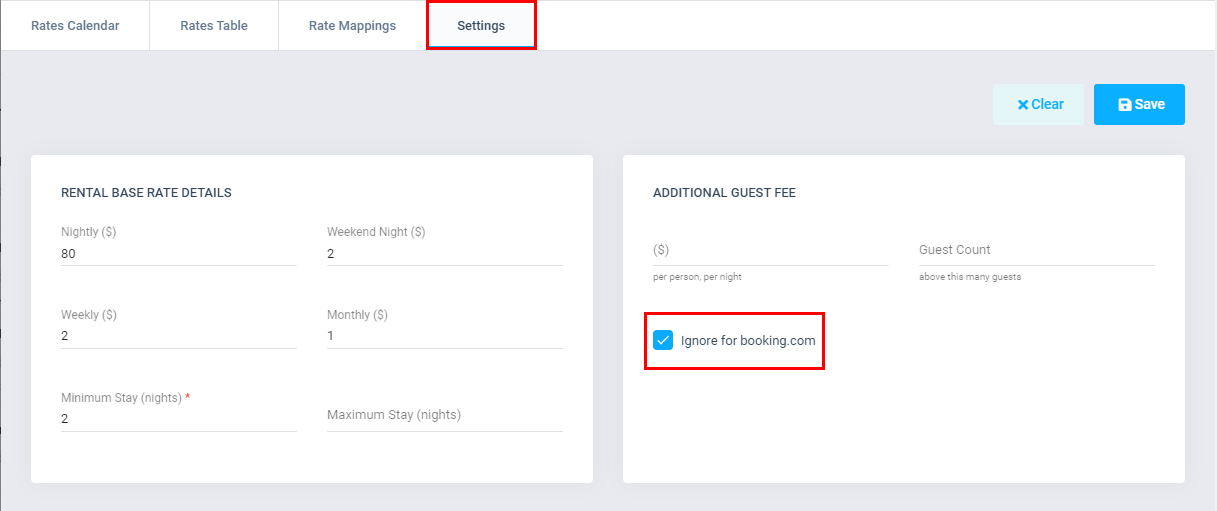 Make sure to push rates again after making this change and refresh your booking.com rates calendar to see if the rates are correct.

The setting "ignore for booking.com" allows you to use the same rates you create for booking.com with other API channels which require the occupancy pricing. Sympl only removes the occupancy pricing for booking.com while still pushing it for any other connected API channels that are mapped to receive the same rate.
Step 3: Checking for additional guest fee discrepancies.
If there is still a discrepancy between what you are pushing from Sympl and what is visible on the Booking.com Rates Calendar you may have an additional guest fee that is configured differently from what you have set in Sympl .
In the example below by looking at the numbers we can see that the additional guest fee in booking.com is set to 50.00. Changing this value in Sympl not affect the interval between occupancy levels and must be configured in Booking.com to match what you are intending to charge per additional guest. To adjust your guest fee on Booking.com personally you will have to first disconnect from Sympl. Please see the following article for complete instructions on disconnecting and changing the additional guest fee to match. Changing the additional guest fee on Booking.com

Step 4: Checking for maximum occupancy discrepancies.
The last thing to consider is whether the max occupancy level is set appropriately. This value also cannot be altered via pushing rates via the channel API and must be altered on Booking.com after disconnecting the channel manager. Please see the following article for complete instructions on how to change the max guests on the booking.com Room Details. Changing the max guest value on Booking.com
In the example screenshot below, the maximum guests is set as 4 persons and cannot be altered except by changing on the room details section in the booking.com admin portal.

Step 5: How to contact support for further assistance.
After making the appropriate changes mentioned above, you should be able to confirm that the rates pushed from Sympl translate into the correct prices per occupancy level on the Booking.com rates calendar. If you are still unable to get the rates to match please reach out via live chat support and make sure to present a screenshot of the rates calendar with the Standard Rate expanded. Making sure that the Room ID is visible in your screenshot will help us confirm exactly which rental you are working with. Please note that we can't troubleshoot your issue without this screenshot expanded to show the details under Standard Rate.

---
As always, please 
contact us
 with questions at any time.  We're happy to help.
---
---